Welcome
This site contains information about the Household of Worcester, a group of medieval re-enactors affiliated to the Medieval Siege Society. It is frequently updated, so please check back to see more photos and information as the fighting and recreation season progresses.
The group takes its name from the 1st Earl of Worcester, Sir John Tiptoft, who was a loyal Yorkist supporter during the Wars of the Roses. You can read more about him and the Wars themselves on the history pages.
The Household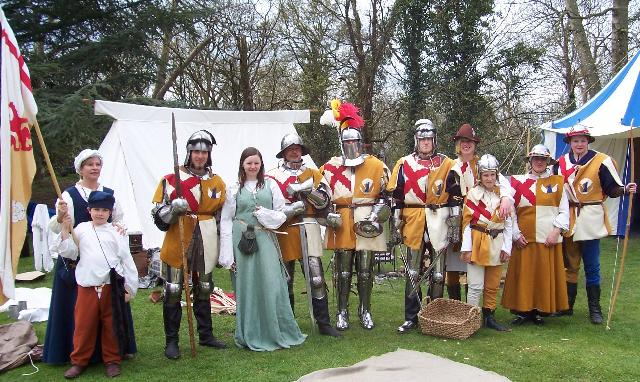 Presently we are recruiting members to fight with us at events organized or attended by the Medieval Siege Society (MSS). Comprised of a number of households, the MSS is the UK's largest medieval re-enactment group and we take part in many events over the year. We are primarily focused on the Wars of the Roses, a bitter 30 year civil war between the rival houses of York and Lancaster in a struggle for the English crown.
The member households cover both Yorkist and Lancastrian sympathisers and there are even some merecenary units who will fight on whichever side pays them the most - and often switch sides during battle if things look to be going against them.
The Worcester Household's head is Sir John Tiptoft, known as "The Butcher of England" because of the unpleasent way he dealt with Lancastrian prisoners when fulfilling his role as Constable of England under Edward IV.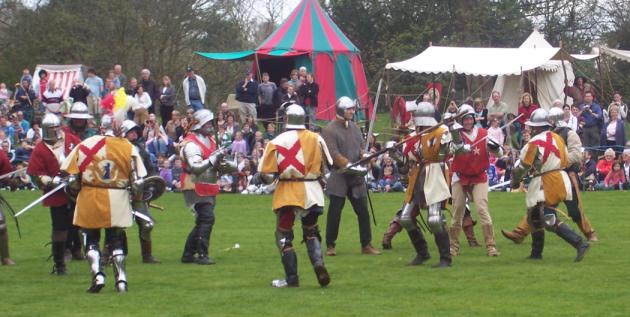 Our Head of Household
Sir John Tiptoft - 1st Earl of Worcester - The Butcher of England
(Peter Moore)
Tiptoft was a highly educated and cultured man. He studied at Oxford University and was at one time ambassador to the Pope. He spent time on a pilgrimage to the Holy Land, returning via Italy, where he stayed for two years. Tiptoft was an early supporter of Renaissance thinking in England and considerable Latin scholar.

Treasurer of the Tower, Constable of England under Edward IV were other notable offices held by Tiptoft. Indeed it was in the latter role he became infamous for his cruelty in dealing with Lancastrian prisoners, having them beheaded, drawn, quartered, impaled and put on public display. These practices were shocking even in the middle ages and earned him the title "Butcher of England".

On the readeption of Henry VI, Sir John was unable to escape with Edward IV and was captured. He was condemned to death by John de Vere, who's father he had cruelly executed some years before.

At his execution in 1470 he asked the headsman to strike three blows for the Holy Trinity.

It appears Tiptoft was not attainted and his son, Edward, inherited his titles and lands.
The Medieval Siege Society
The MSS is comprised of relatively "normal" people who enjoy re-enacting living history and battles from about 1400 to 1500. They are highly regarded for their professional approach and impressive standards of dress, combat and realism.
The society comprises of a number of households like ours, some Yorkist, some Lancastrian, some Mercenary along with individuals who affiliate themselves to different households on the day. Links to websites of some of the other households can be found on our links page.
Anyone interested in joining the society should visit their website, also on our links page.
---
Unique page hits since 23/11/06

Yahoo DSL ATT